Published on 25/07/16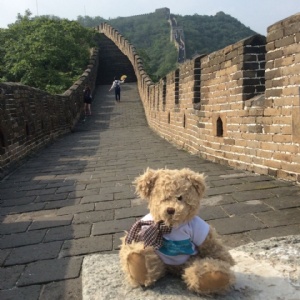 Today was our final one in Jinan. Our first challenge of the day was to get out of bed in time to check out before 6.30, then to eat one of our last Chinese breakfasts before leaving for the train station at 7.30.
Catching the train in China is a unique experience- after thorough security checks you must board the train in a two minute window- alongside everyone leaving the train! We all managed it, however, and were soon on our way back to Beijing. The return was only brief though, because we needed to continue to the main event of the day- The Great Wall of China. Our lunch was a selection of Chinese dishes, including sweet and sour chicken and cabbage, and then it was time to face the steep walk up to the wall. Or, if you preferred, the much less exhausting cable car. I personally chose the former, and once I had completed the surprisingly brief but tiring walk to the wall, I was greeted with a landscape of mountains and thick Chinese forest. The scenery made the walk well worth it however, and we took many photos. The original Great Wall was started by the First Emperor Qin Shi Huangdi in 221 BC but most of it (and the part we walked on at Mutianyu )was built in the Ming dynasty (1368 -1644). Finally we returned to our original Beijing hotel once we'd eaten dinner, eager to rest but having enjoyed the experience.