Published on 24/07/16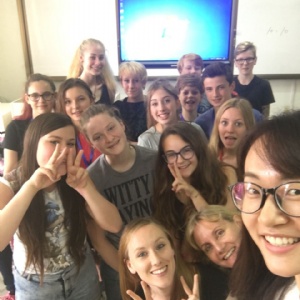 Day 11
Today was the final day of lessons and we spent most of it learning from the teacher what was in the final test. In the afternoon we attended a cultural lecture on Peking Opera and we learnt some opera hand movements and the significance of different opera mask colours. The evening was spent revising for the test. We were preparing for the YCT level 1 test and a test set by the teacher.
Day 12
In the morning we took the graduation test which consisted of listening questions, reading and a little writing. We had to learn a lot of characters but, with the help of the teachers, we all learnt them in time.
After lunch we had the graduation ceremony. The Chinese hosts and teachers made speeches followed by a few of the student from various schools. The students were then presented with their graduation certificates and took photos with the their Mandarin teacher. After a short break and many group photos, the remaining schools did their performances. One school did a musical performance, others did dances and we performed part of the poem Farewell To Cambridge. A lot of people got emotional about leaving their teachers and hoped to visit again.
Our Mandarin teacher invited us to dinner at KFC as a final goodbye and afterwards we went to the Taobao market and spent a large sum of our remaining money.
Chris G