Published on 20/07/16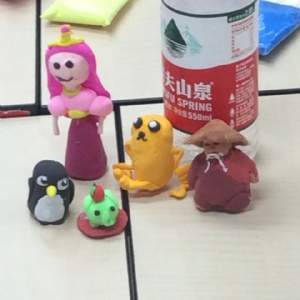 We started off the day with our normal Chinese lessons . Today we learnt about directions . After lessons, we had lunch in the canteen and had a little rest before moving on to our cultural lectures. This time we did an ancient Chinese art of dough modelling ( 面塑 ) .
We were given sachets of flour , mixed with water with a little bit of food colouring . We were meant to create a sculpture ( s ) with our team and our team decided on the theme of a popular cartoon show called " Adventure Time " . We made a few characters from the show and even though they didn't turn out as well as we wanted to, we tweaked them a bit in the end and were finally satisfied . The other groups made characters such as spongebob , Patrick , the minions and some swans . The teachers also formed a team and created some amazing looking dragons ! After a quick break we decided to go to a local park in Jinan . It was really interesting because it was nothing like the parks we have in England. There were people singing and " walking " their birds out in cages , there was ballroom dancing and our teachers actually had a go ! We also did some exercise on the monkey bars and had a go on the see saw; we seemed to get considerable attention from the local people. The people were really friendly there and we had a go at leading a conversation with them in Chinese about England !
Karina T