Published on 19/07/16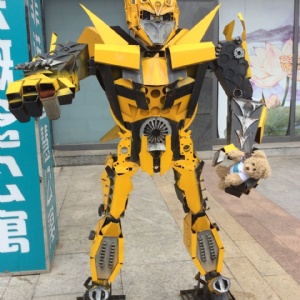 Day 7
After normal language lessons in the morning, we took part in an 'amazing race' around the campus. It was very useful as it helped us to orientate ourselves in the area and get to know our way around. In this activity we had to complete different challenges, which required us to work together, improving our teamwork. The challenge involved using our Mandarin to interview Chinese students on campus and find information. It was a race between 6 teams – the first team to get back having answered all the questions on the sheet was the winner. Our team was quite pleased with coming 2nd as we were slightly outnumbered with only 3 people on the team.
After dinner some of us headed out to do some sport including volleyball and basketball, which got quite competitive. We all really enjoyed this part of the day as it helped us wind down from a busy day of Chinese lessons.
We finished the activity-packed day with a movie night. We watched an interesting and entertaining movie called "The Monkey King".
Katya B
Day 8
Today began at 9am with a visit to the Jinan springs. We walked through a series of bridges and paths, surrounded by trees, and were all amazed by the springs. There were also a number of people performing unusual Chinese activities- one group was playing loud drum based music, while another sat patting themselves vigorously in order to massage their bodies. Once we had finished the first part, we walked through a series of narrow winding paths to another section of the springs. Here a group of elderly swimmers saw their chance to put on a show, and demonstrated their diving talents to us all. The spring water is drinkable so people were filling buckets from animal shaped holes on the bridge. Afterwards we continued to the hot springs, which were surrounded by trees, and had an ornate bridge along with large lion statues. The water in these springs can reach 18 degrees Celsius!
Following a delicious lunch from the cafeteria, we continued our sightseeing with a trip to the Shandong university museum. Here we had the fascinating opportunity to observe artefacts extracted from emperor Zhu Han's tomb (10th son of the first Ming Emperor). There was an array of objects, from miniature stone servants and soldiers to assist the emperor in the afterlife, to every type of pot a ruler could need after death. Our final activity of the day took place after dinner, during which we visited a tea shop and learnt a little about the various types of Chinese tea, along with sampling some of the tea.
Ella C-B