Published on 14/07/16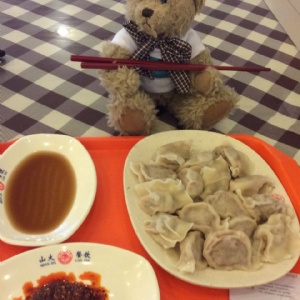 On our third proper day in China we took the train to Jinan, a city just south of Beijing and the capital of the Shandong province. We had an early start to the day to make sure we arrived at the train station on time. The station in Beijing was very big and spacious – very different to the familiar train station in Cambridge. We were very surprised to learn that the train stopped off at each station for one or two minutes, leaving us barely any time to get on and off! The train journey took us just under two hours, so we arrived in Jinan in time for lunch.
We had our lunch at the canteen Shandong university, which is the biggest in Asia. We tried a variety of Chinese dishes, most of which we enjoyed. After lunch, we unpacked in our hotel rooms and headed to a neighbouring building to take a placement test which would determine the standard of our Chinese and place us in groups based on our level. Being the youngest of eight groups on the trip, we found the test quite difficult and challenging, but we are really excited to learn more Chinese regardless of our grouping.
Afterwards, we then found out about Shandong and Jinan as well as some interesting facts about the university. We discovered that over 60 thousand students from all over the world are studying here in eight different campuses. Next we were taken on a tour of the campus, where we met some Chinese students who are learning English at the university. They told us a bit about themselves and their lives as university students. It was very interesting to hear about their English studies and seeing learning foreign languages from a different perspective.
So far the trip has been extremely interesting and I look forward to spending more time in Jinan.
by Katya B